DARREN KEEFE DROPS A DOZEN DIY-isms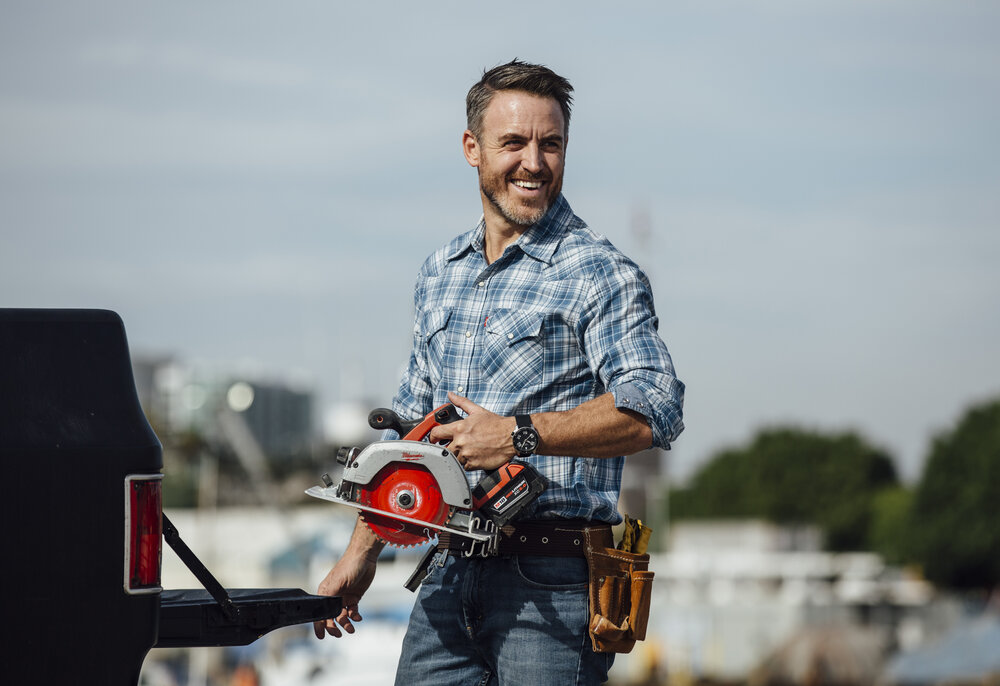 Darren Keefe is known as viral standout "Dancing Carpenter "on Instagram for busting moves when he's not woodworking. The Irish-born carpenter, furniture maker, designer and one of the co-hosts on HGTV's Extreme Makeover: Home Edition is our special guest at the upcoming Fairgrounds Southern Ideal Home Show, but before he dances his way into the Triangle, he's dropping his top dozen DIY-isms:
What tool should every homeowner own? A drill! If you have cinder block walls (like in a basement), and plan on hanging anything, you'll want to spend a little more and purchase a hammer drill.
What's your favorite HGTV or DIY Network series? I like Fixer to Fabulous. Dave Marrs has a great imagination and he's able to fabricate whatever he cooks up.
Best or home improvement app folks don't know about? I'm learning Sketch Up. But any modeling app is great for drawing designs or laying out a room.
Best home purchase for under $100? A laser level. Whether you're hanging a frame or shiplap, it's a fantastic tool for getting your lines straight.
What's the biggest DIY fail you've seen? This knuckle head I was working with cut a gas line thinking it was a water line… the knucklehead was me and it was my first DIY project. Well, technically I was working for a GC. I didn't get paid that day.
Any furniture thrifting tips? Buy old whenever possible. New furniture is all particle board. I wonder what will fill the vintage shops 50 years from now… it definitely won't be the furniture being mass produced today.
What home trends are you loving? What styles do you think will emerge in the future? I'm seeing muted pastels making a comeback. Statement walls. White Oak furniture.
What is an outdated home trend you hope doesn't come back? I'm not a fan of the old 70's/80's paneling. I hope it's gone for good but ya never know, design is cyclical.
Which HGTV / DIY Network star would you most like to work with? Dave Marrs or Ben Napier.
What project are you currently working on? Finishing a maple kitchen island and venetian plaster fireplace.
When you design a room, what is the most important interior design advice you give? Find your voice. Buy interior design magazines. Get a sense of what you like and don't like. Usually whatever it is, it will pop off the page. Then you can embellish and create.
Tell us about your pets. It's an 81 Chevy C-20 truck.
To get even more DIY tips from Darren Keefe, come see him on Fresh Ideas Stage at the Fairgrounds Southern Ideal Home Show on Friday and Saturday at 1 pm.

Save $3 on tickets when you buy online now, click here.
Mar 28, 2022, 19:23 PM